The bookcase in my room has long been an eyesore, an object of shame and discomfort, a blight upon the decor of my living space.
When I was finishing junior high, Gran generously offered to buy me new, grown-up furniture, since I was basically living in a room designed for a five year-old, and I had limited resources to do anything about it myself, since my idea of transportation involved smiling politely at one of my parents in the vain hope that one of them would agree to drive me somewhere, or, alternately, riding my bicycle the several miles it takes to reach the nearest gas station in hope that they would have whatever I was looking for. But since the one-room gas station only stocked lottery tickets, powdered donuts, cigarettes, and the occasional inexplicable onion (Where did they come from? who bought gas station onions?), I was usually out of luck.
I picked out a glorious bedroom set, but it didn't come with a twin bed (as my room is too small to accommodate a larger mattress), and it didn't come with a bookcase. Mum and I didn't so much care about that, we resolved to replace the bookcase at some unspecified time and to find a twin bed that matched or blended with the new furniture.
The bed was eventually replaced with a metal sleigh bed contraption that was probably the worst-constructed piece of trash ever produced by whatever company J.C. Penny ordered it from. It had no support for the mattress aside from a single metal beam across the middle, which wasn't anywhere near enough support to hold even my slight junior-high school frame, leading to the box spring portion of my mattress bowing and, eventually, breaking.
Nothing makes a girl feel skinny like snapping the mattress she sleeps on. It was the sort of thing that gives lifelong shame and insecurities, like being asked if you're having a girl or a boy when you're not pregnant, like splitting your pants, like looking into a full-length mirror when you're dressing, like sitting down in a chair and having the chair give up the ghost in that very second, leaving you on the ground, littered with chair bits, wishing you didn't like food as much as you do, or that maybe you liked exercise a whole lot more.*
But, even though it was horrid and ill-constructed, the new bed stayed. And so did the plain, white, Sauder bookcase.
This bookcase, let's be honest, is crap. It was not designed to last the length of time it has lasted, and it was not designed to be used as hard as I use it. I think Sauder thought it would hold a couple books, maybe. For me, it holds hundreds of books, because each shelf has a front and a back row of books on it--that's right. I double-stack those babies. I have to. If I didn't, I'd have to buy two more giant tubs to fill with excess books and my closet doesn't have enough room for more than three--I know, I measured.
The back of the bookcase is composed of cardboard that was coated with a plastic/waterproof substance. The rest is made of laminate-covered particleboard. And yes, some of those shelves HAVE bowed from the weight of my books. And no, I don't have a problem. If I had a problem, I'd be like
those brothers from Harlem
who had a maze of newspaper in their apartment, eventually dying in the labyrinthine passages and remaining undiscovered even as the police began an investigation following their disappearance.
And the bookcase clashed with the entire room. If it had been merely painted white, I could have done something about it easily. But no. And according to everyone I talked to, you couldn't paint on that laminate stuff it was made with. I was out of luck. I also wasn't about to buy another bookcase made of fake wood. It would have to be, at the very least, GOOD LOOKING fake wood, and it would have to be the right color fake wood to make it match with the real wood in the rest of the room. Such a fake wood bookcase does not exist, so I lived with the white, even though the room is painted in a cream parchment paper color that clashes terribly with white.
But then I saw an episode of Oprah (whose show I watched quite a bit when I was in college, because boredom and only dial-up internet at home). and Nate was on, and he said you COULD paint laminate, but you had to prepare the surface properly using this special spray paint.
Which does not exist. Or, maybe it exists in the fancy home-decorator places he goes to in Chicago, but in Indiana, it does not exist.
And then Pinterest came, and I found a tutorial. This blogger details how she managed to make her shelves fit with her decor, which was exactly what I was going for, the hasn't-been-chewed-on-and-then-spat-out-again look.
I had a bit of vacation time last week, so I spent the time going to Lowes, buying primer, grabbing paint chips, choosing a color, priming, painting, and applying a clear topcoat to the bookcase.It took ages, it killed my back, which at this point is made mostly of bone dust and held together by string or maybe by the clothes I'm wearing, but it was so worth it.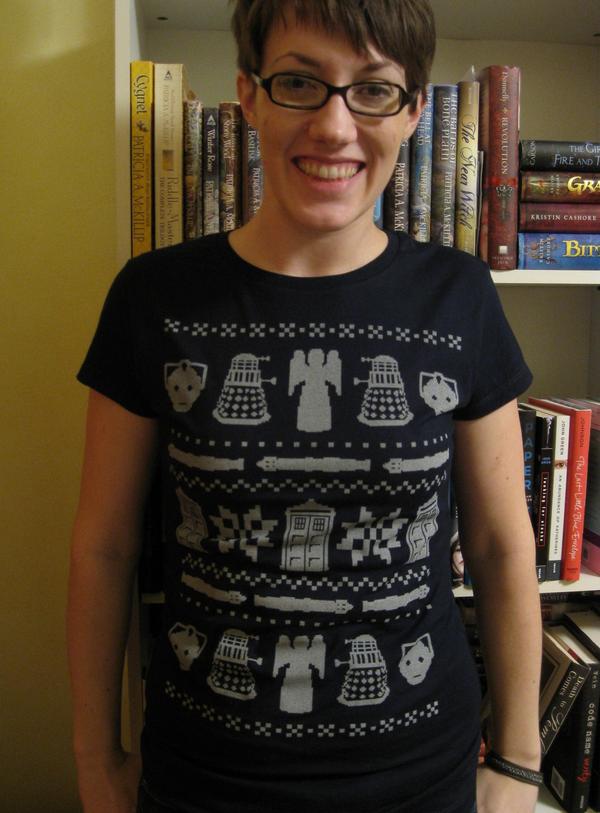 Since I suck completely at chronicling projects I do, here is a random, highly-unflattering picture I found of myself modeling a tee-shirt in front of the bookcase before.
See that yellow/cream wall and the white shelf? And the freaky-exhausted-looking girl who doesn't know where to put her arms while taking a picture of herself using her camera's automatic timer? That was what we wanted to change.
The color I chose was Mustang, which was a dark brown with just a hint of purple to it. I know that sounds bizarre, but it actually matches the quilt on my bed and the
And, well, let's face it, I have a lot of books. Clearly, when the picture on the left was taken, I had just removed many books...because I have space on the shelf behind me.
Because this is what was on that shelf when I pulled out all the books.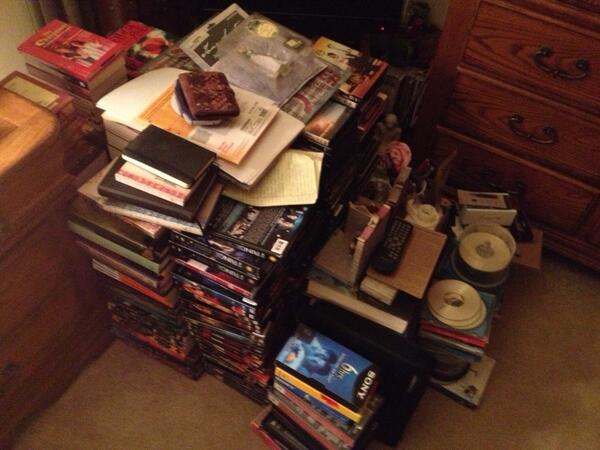 If you take a closer look, you'll see that there are also VHS tapes and CDs in that pile--those weren't actually on the bookshelf but in the tiny space between the shelf and the wall. They now have a new home, along with the DVDs I had crammed on the bookshelf, in storage under my bed. I would have liked to do
this
for under-the-bed storage, but my bed is so horrid, it won't allow me to have anything this wide.
However, Sterilite makes these great boxes with wheels that will roll under your bed and out again easily, no matter how many seasons of
The X-Files
you cram inside them. And they just so happen to fit between the bizarre leg/post things my bed has.
And here is the bookcase after my ministrations.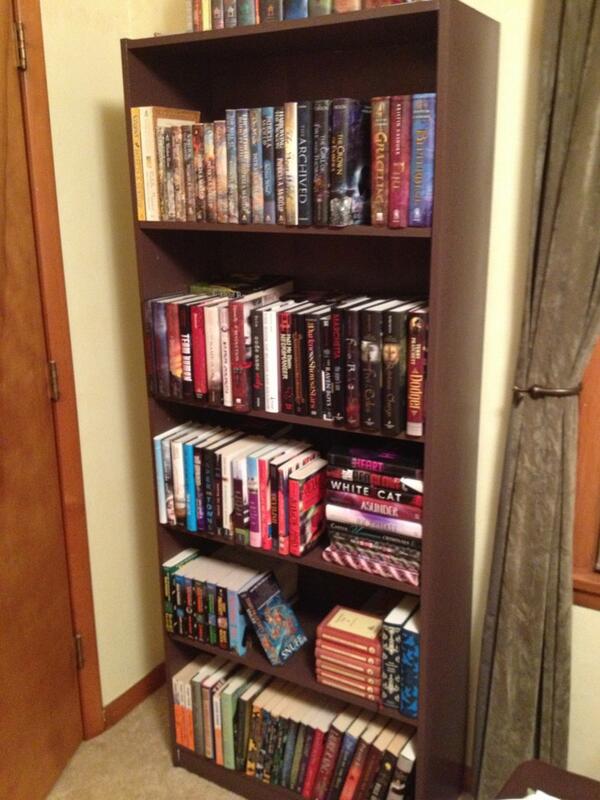 You will note that it does not clash with the wall behind it, the drapes, or the carpet. You will also note that there is SPACE for more books, even if a few of the shelves are stacked double. You may also notice that, in moving the bookcase prior to painting, I knocked two leaves off the hook that holds back the drapes. So when I go home today, that's getting put back together using jewelry cement, like the leaves on the curtain rod were when I knocked those off.
Apparently, I suck at making my room nice and keeping it nice for more than 30 seconds at a time.
The bookcase could look better, sure. It was my first furniture project, and next time, I think I'll tear the furniture as far apart as possible--for this project I just took out what shelves were removable. And I'll stick to a roller for everything, instead of using a brush. It turns out, I hate brush marks like a sickness, and I couldn't really sand the primer as vigorously as I wanted to, for fear of removing chunks of primer and leaving exposed laminate.
That being said, I'm thrilled with the results. For once, it looks like my bedroom wasn't thrown together by a drunk monkey on a budget, and I am a happy girl.
If you want to try out the tutorial I used, you can find it
here
. In looking over it a second time, I noticed she does recommend using a roller for the primer, so I suck at reading and following directions, no surprise to the many elementary school teachers who scribbled that in the margins of my worksheets. In the meantime, I'll be working on another home improvement project, so more on that later. Here I am buying supplies...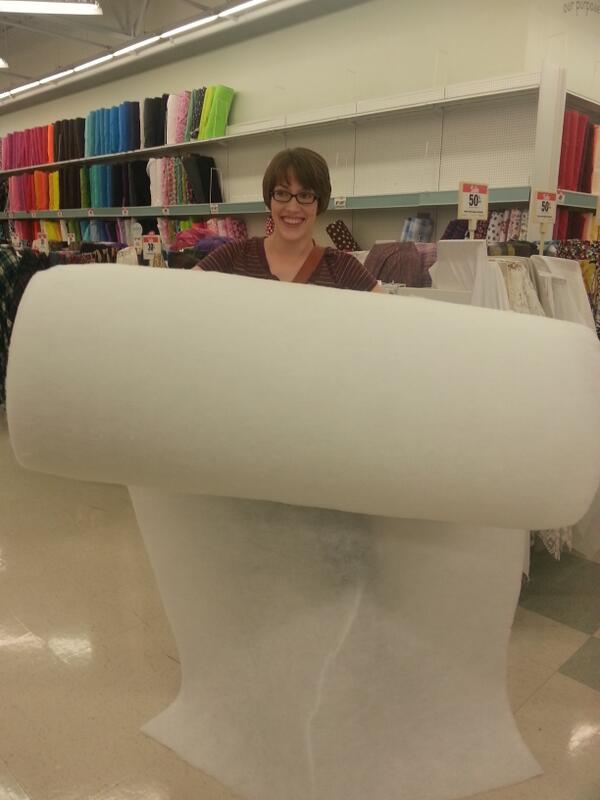 We can thank Rachael for immortalizing this moment for us. It was like holding a cloud.
* One of those things has not happened to me. The rest have happened. Some of them more than once.